Wonderful women for International Day of Women and Girls in Science 2022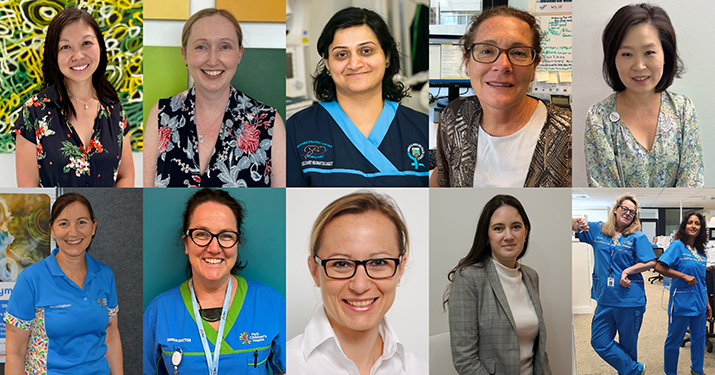 For International Day of Women and Girls in Science on 11 February 2022, we would like to highlight some of our talented and dedicated staff, who not only provide outstanding care to our patients, young people and families but who also contribute above and beyond through research and other aspects of their work.
We asked ten women what work they do and what inspires their passion for science.
Dr Deane Yim
Cardiologist, PCH
Dr Deane Yim is a Paediatric and Fetal Cardiologist and clinical lead for cardiology research at PCH. She was recently awarded a PCH Foundation grant to lead 3D-printing of cardiac models for education and planning treatment.
"My role is to diagnose and manage childhood heart conditions. I feel privileged to be able to support children and families throughout their journey from a fetal diagnosis to a young adult. I strive to provide the best care for my patients and I am committed to forwarding clinical research to help improve the lives of children with heart disease in WA."
- Dr Deane Yim
Karen Forde
Senior Evaluation and Research Officer, CAHS Community Health
Karen plays a key role in contributing to the WA Data Linkage System for Community Health at CAHS.
"I am passionate about improving the quality of community health data for clinical care.

"I am also passionate about supporting researchers and clinicians to access to the best data available via the WA Data Linkage System so they can to make a positive difference to our children's health and wellbeing.

"Currently, I am progressing research opportunities to investigate factors that may place children at higher risk of developmental delay.

"This research grew from a quality improvement project and is a great example of research being led by service need." 
- Karen Forde
Dr Gayatri Jape
Consultant Neonatal Paediatrician, Neonatology, King Edward Memorial Hospital
Dr Gayatri Jape is a Consultant Neonatal Paediatrician, at King Edward Memorial Hospital and Clinical lead of the Neonatal Follow-Up Program.
"It is a privilege to work closely with vulnerable babies and their families both in their critical phase after birth followed by assessing their abilities in early childhood.

"They inspire my passion to contribute to neonatology and neonatal follow-up.

"As a clinician and researcher, I strongly believe in the importance of excellent and holistic evidence- based clinical care to improve short and long-term outcomes of these babies."
- Dr Gayatri Jape
Kwi Moon
Clinical Supervisor Pharmacist, PCH
Kwi Moon is a Clinical Supervisor Pharmacist. She provides leadership to the Clinical Pharmacy team at PCH. Kwi is also a Clinical Pharmacist for 3B (NICU) and renal team.

"As part of my PhD studies I am currently undertaking a randomised control trial to evaluate the benefits and risks of early versus late parenteral nutrition in term and late preterm infants.
"I feel fortunate that I am able to integrate research into clinical pharmacy practice at PCH. I am passionate about improving our patient care via high quality research.  

"PCH staff and volunteers who do their best to help patients and their families inspire me. The parents of babies who support my research by participating in my clinical trial also inspire me.

"These people make what I do meaningful and make me never give up what I do."
- Kwi Moon, Clinical Supervisor Pharmacist, PCH
Dr Simone Schueller
Senior Registrar, Neonatology, King Edward Memorial Service
Dr Simone Schueller is a Senior Registrar in Neonatology at King Edward Memorial Hospital. She is currently working as a retrieval doctor for the Newborn Emergency Transport Service. In this role she retrieves sick and preterm babies from all over WA and helps ensure they have a safe transport to Perth Children's Hospital for further management. 

She has previously been awarded a Max Kade research fellowship by the Austrian Academy of Science to perform vaccine related research at Boston Children's Hospital and has recently been awarded a Paediatric Research Early Career Investigator Award.
"In addition to my clinical role, I am passionate about my research which focuses on immune development of newborn babies to inform new preventive and treatment options for blood stream infections."
- Dr Simone Schueller
Dr Briony Hazelton
Infectious Diseases Specialist and Clinical Microbiologist, PCH
Dr Briony Hazelton is an Infectious Diseases Specialist and Clinical Microbiologist. She is also Clinical Lead for the CAHS COVID team. Briony is described as a great clinician who brings her knowledge of microbiology, infection control and strategic leadership to our organisation. 
"As a pathologist and clinician, I'm privileged to be able to practice from the 'bench to bedside', using information from laboratory investigations to guide and optimise the treatment of infections in children.

"In my current role with the CAHS COVID team I enjoy collaborating and problem-solving with colleagues to help everyone prepare for the challenges ahead."
- Dr Briony Hazelton
Dr Raewyn Mutch
Paediatrician, Refugee Health Service, PCH
Dr Raewyn Mutch is described as an extraordinary paediatrician in the Refugee Health Service at PCH. She is also heavily involved in grant writing, teaching medical students and supervising PhD students.
"I'm privileged to be able to participate in teaching, research, supervision and advocacy. This work extends beyond health across to education and justice settings as well as nationally and internationally.

"My roles in refugee and asylum seeker health and general paediatrics allows me to work with remarkable professionals from many disciplines. Together we seek to apply evidence with excellence and compassion.

"We also aim to understand and optimise the health, development, social and emotional wellbeing of children and adolescents attending CAHS.

"Mō tātou, ā, mō kā uri ā muri ake nei – for us and our children after us."
- Dr Raewyn Mutch
Jodi Mann and Dr Maina Kava
Clinical Nurse and Paediatric Neurologist, PCH
Jodi Mann, Clinical Nurse and clinical trials coordinator for the neuromuscular service at Perth Children's Hospital and Dr Maina Kava, Paediatric Neurologist and clinical lead for the neuromuscular service, are a dynamic duo within the neurology department at PCH. They have done enormous work in establishing international best standard management programmes for children and families with neuromuscular disorders, especially spinal muscular atrophy. Their work on clinical trials is also offering hope to families caring for children with neurological conditions.

Jodi and Maina say that looking after children with neurological impairment is extremely rewarding and challenging at the same time.
"The little gains they make in their development bring us joy and happiness.

"Our patients help bring out the best in us, so we can try and bring out the best in them." 
- Jodi Mann and Dr Maina Kava
Dr Noula Gibson
Senior Physiotherapist and Physiotherapy Research Coordinator, PCH
Dr Noula Gibson is a physiotherapist and research coordinator in the Physiotherapy Department at PCH. She is described as an amazing physiotherapy clinician and a fantastic researcher. She recently won an Editor's Choice Award from the Development Medicine and Child Neurology Journal for a research paper and she has previously won a Rotary Allied Health Award in Innovative Practice.
"In my role as Research Coordinator Physiotherapist, I work as both a physiotherapy clinician as well as support my physiotherapy colleagues in research and best practice. As a clinician I am passionate about children receiving high quality evidence-based care.

"By working clinically as well as in research I am able to build consumer driven priorities into our department's research strategy.

My vision has always been to use my role to motivate and facilitate clinicians to translate research naturally and effectively into their routine activity, with and for the real-time benefit of the children and families we see in our clinics."
- Dr Noula Gibson
Zamia Pedro
Clinical Psychologist, CAMHS
Zamia Pedro is a Clinical Psychologist for CAMHS, Honorary Research Associate at Telethon Kids Institute and Professional Practice Fellow at the School of Psychological Science at UWA. Zamia is involved in a range of research projects and has a strong commitment to evidence based clinical practice and service delivery.

Zamia is the project manager for a large clinical trial currently being conducted at Perth Children's Hospital which aims to comprehensively assess risk factors in children and adolescents who present with deliberate self-harm and evaluate the efficacy of therapeutic intervention at the time of an acute mental health crisis.  Zamia and her research team were recently awarded a large grant from the federal funding body Suicide Prevention Australia to provide targeted intervention for suicide prevention across the Perth metropolitan and two regional sites in Western Australia. 
"Our aim is to better understand this prevalent and complex problem to develop strategies to reduce the rate of deliberate self-harm and suicide in our children and young people. 

"By conducting clinical research in the emergency mental health space, we can be confident that we are offering treatments that improve outcomes for our children, adolescents, and families.

"I am committed to fostering innovative research programs to respond to current gaps in knowledge, further our scientific understanding of this important and complex problem and drive practical application in emergency mental health and suicide prevention."  
- Zamia Pedro